The History
Clandestinos™ is a tribute to the most traditional way of manufacturing cigars: "Custom Rolls." Prior to the growing of the cigar industry in the 1930's it was a common practice to see the most exquisite smokers with cigars especially made for them. This tradition was kept through the years in the tobacco plantations at the countryside and small cigar boutiques in the cities. Once the control of the habanos industry went into the hands of the dictatorship of Fidel Castro, the expropriation of the businesses made this practice illegal. Yet, the tradition has survived the regime and kept the art and secrets of the custom rolls in a CLANDESTINE way.
The Product
The challenge for us was to present a product that embodies the characteristics of Cuban cigars as far as construction, draw and flavor profile while not counting with the actual Cuban tobacco leaves. Fortunately enough, we were in the right place: Little Havana, the heart of Cuba exile in the US. A group of Cuban cigar rollers, blenders and testers from different generations gather with the intention of creating a different type of product. After many frustrating blending sections, we finally caught a break. On the 15th day of blending we had an unlikely contributor, who ended up being a key piece to the final Clandestinos® Product.
The Blends
Luxcious
This version was created for smokers who enjoy the more docile notes of tobacco that a combination of leaves from the Caribbean, South and Central America can produce. It is worth noting that, despite their low level of strength, all the vitolas carry a mix of Esteli and Dominican Republic "ligeros," decorated with a second Dominican leaf. The blend, although characterized as mild, has a bold personality and a profile of flavors that is far from typical. These cigars are wrapped with Ecuadorian Deflowered Connecticut leaves and an Indonesian binder.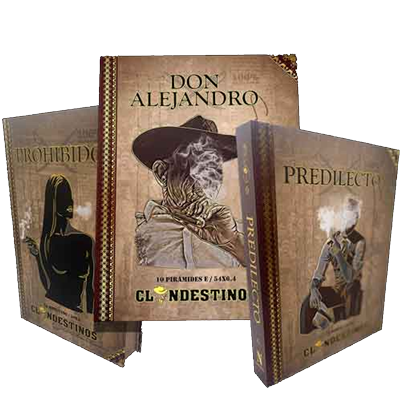 Natural
For this blend, we were inspired by cigars that became really popular in Cuba during the first half of the 20th Century. Our purpose was to achieve a piece with vivid flavors and no trace of bitterness or sourness. This formula is the perfect go-to option for those who enjoy taste on their cigars without having to fight it. For this blend, we com­bined leaves from Esteli, Nicaragua and Dominican Republic, a neutral binder from Indonesia and a "Habano Colorado" wrapper grown in Ecuador.
Lush
Of all the blends, this was the most challenging to achieve. Our goal was to create a unique and original variation of Maduro Cigars. While these tend to be high in flavor and power at the same time, our idea was to keep an intense flavor while still toning down the power. The result is a cigar that can be smoked all the way through by those who typically cannot enjoy a maduro due to the traces of an overwhelming profile. By far, this is our boldest creation.